Restoration Of Gun Rights In Colorado And Pardons – Don't Hold Your Breath
By H. Michael Steinberg Colorado Criminal Defense Lawyer – Attorney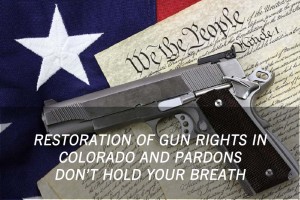 Restoration Of Gun Rights In Colorado And Pardons – Don't Hold Your Breath – In Colorado, with a conviction for certain crimes, there is a loss of the precious right to bear arms. With Colorado's strict sealing / expungement laws a "restoration of civil rights" to include the right to bear arms, leaves only the governor's pardon.
While I have written on this subject before this article again addresses the Colorado pardon.
A Pardon Is "Legally" Possible, But Very Unlikely
Colorado's constitution awards the sitting governor "the power to grant reprieves, commutations and pardons" for all crimes except treason. Known as the "clemency process," pardons are intended to reward people whose lives have so changed that they no longer pose a threat to public safety.
In Colorado, the clemency process is "assisted"  by the Colorado Executive Clemency Advisory Board – a seven-member panel that was created to, not only screen clemency applicants, but to make recommendation to the Colorado governor.
The Executive Clemency Advisory Board, makes recommendations to the Governor on all pardon applications, except for in cases involving treason and impeachment. This Board consists of 7 unpaid members who are appointed by the Governor. In order to receive a recommendation for the pardon, at least 4 members of the Board must vote to recommend you for the pardon.
While there is no right to a pardon or a commutation, and they are granted at the sole discretion of the governor, the Governor, should he (or she) choose to grant a pardon, is authorized to place any conditions on a pardon as the governor deems proper, so long as the condition is not illegal, immoral, or impossible to perform.
There is very little reason, other than political reasons, not to grant pardons to those who deserve them given this broad grant of discretion. However even with this kind of authority, Colorado pardons are almost never granted.
The Loss Of The Right To Bear Arms Because Of A Felony Conviction
With a felony conviction, federal law removes the right to bear arms. That right can only be restored with an expungement (record sealing) – (for felony convictions the right to seek to seal – expunge a felony only exists in Colorado for certain types of Drug Crimes felonies) – or by the grant of a governor's pardon.
The Colorado Pardon Process – The Law
As in almost all procedures that restore rights, the Colorado pardon process (knowm as clemency) is controlled by carefully crafted laws. I have always strongly recommended that one go the source of the law and read these laws that are written for all, not just the lawyers.
The Colorado State Legislature has promulgated three statutes that control how and under what circumstances a pardon shall be granted. The Colorado pardon process is found in the Colorado Revised Statutes at Sections 16-17-10, 16-17-102 and 16-17-103.
16-17-101 Governor May Commute Sentence
The governor is hereby fully authorized, when he deems it proper and advisable and consistent with the public interests and the rights and interests of the condemned, to commute the sentence in any case by reducing the penalty in a capital case to imprisonment for life or for a term of not less than twenty years at hard labor.
16-17-102. Application – Character Certificate
After a conviction, all applications for commutation of sentence or pardon for crimes committed shall be accompanied by a certificate of the respective superintendent of the correctional facility, showing the conduct of an applicant during his or her confinement in the correctional facility, together with such evidences of former good character as the applicant may be able to produce. Before the governor approves such application, it shall be first submitted to the present district attorney of the district in which the applicant was convicted and to the judge who sentenced and the attorney who prosecuted at the trial of the applicant, if available, for such comment as they may deem proper concerning the merits of the application, so as to provide the governor with information upon which to base his or her action.

The governor shall make reasonable efforts to locate the judge who sentenced and the attorney who prosecuted at the trial of the applicant and shall afford them a reasonable time, not less than fourteen days, to comment on such applications.

The requirements of this section shall be deemed to have been met if the persons to whom the application is submitted for comment do not comment within fourteen days after their receipt of the application or within such other reasonable time in excess of fourteen days as specified by the governor, or if the sentencing judge or prosecuting attorney cannot be located, are incapacitated, or are otherwise unavailable for comment despite the good-faith efforts of the governor to obtain their comments.

Good character previous to conviction, good conduct during confinement in the correctional facility, the statements of the sentencing judge and the district attorneys, if any, and any other material concerning the merits of the application shall be given such weight as to the governor may seem just and proper, in view of the circumstances of each particular case, a due regard being had to the reformation of the accused. The governor shall have sole discretion in evaluating said comments and in soliciting other comments he or she deems appropriate
16-17-103. Effect of Pardon and Commutation of Sentence
(1) A pardon issued by the governor shall waive all collateral consequences associated with each conviction for which the person received a pardon unless the pardon limits the scope of the pardon regarding collateral consequences.

(2) If the governor grants a pardon or a request for commutation of sentence, the governor shall provide a copy of the pardon or commutation of sentence to the Colorado bureau of investigation, and the Colorado bureau of investigation shall note in the individual's record in the Colorado crime information center that a pardon was issued or commutation of sentence was granted.

(3) For purposes of this section, "collateral consequences" means a penalty, prohibition, bar, disadvantage, or disqualification, however denominated, imposed on an individual as a result of the individual's conviction of an offense, which penalty, prohibition, bar, or disadvantage applies by operation of law regardless of whether the penalty, prohibition, bar, or disadvantage is included in the judgment or sentence. "Collateral consequences" does not include imprisonment, probation, parole, supervised release, forfeiture, restitution, fine, assessment, or costs of prosecution.
The Single Best Source Of Information In This Area Is A Website – Pardon411.com
Here is a summary of part of an excellent source article from Pardon411.com -a web page that discusses the restoration of civil rights through the use of the pardon:
The Effects (Of A Felony Conviction In Colorado)
The Right To Vote
The Colorado Constitution takes away the right to vote while you are in prison for a felony conviction. (HMS – Colo. Const. art. VII, § 10. See also Colo. Rev. Stat. § 1-2-103(4).)

You automatically regain this right once you either receive a pardon or successfully complete your prison sentence (including any parole).

Therefore, if you are only interested in regaining your voting rights, and you are no longer serving your sentence, it is probably not necessary to apply for a pardon.

If you have been convicted of a felony anywhere, you are disqualified from holding public office in Colorado while you are confined in prison or on probation. However, with a few exceptions, this right is also automatically restored after you complete your sentence.[HMS – Colo. Rev. Stat. § 18-1.3.401(3)]

So, again, if you only interested in regaining this right, a pardon may not be necessary.
The Right To Serve On A Jury
You do not lose your right to serve on a jury in Colorado because of a felony conviction, even if your other rights were take away and have not been restored. [HMS – Colo. Rev. Stat. § 13-71-105]. A pardon therefore is not necessary if you only want to be a juror.

You do lose your right to possess a gun in Colorado if you have been convicted of a felony, even if it is a federal or out-of-state felony. [HMS – Colo. Rev. Stat. § 18-12-108]
Restoration Of Gun Rights
The Governor has the authority to restore your gun rights.

However, unless the pardon specifically says your gun rights are restored, you should not assume that they are. Ask for clarification from the Governor's office at the time you receive your pardon. If having your gun rights restored is important to you, make sure you make this known during your application process.

Under federal law, if you have received a pardon from any state, the pardoned conviction cannot be used by federal authorities to prosecute you for "unlawful possession of a firearm" under federal law, unless the pardon specifically says you cannot possess a gun. [HMS -13.18 U.S.C. 921(a)(20) & (33).]

However, just because you cannot be prosecuted under federal law does not mean you cannot be prosecuted under State law. Some states have stricter gun laws than federal law. If regaining your gun rights is important to you, you should clearly indicate that desire on your pardon application.

….

The pardon is, after all, a strong official statement from the highest executive officer of the State forgiving you of the crime and essentially declaring you a rehabilitated individual. Most employers and licensing agencies, and perhaps most landlords as well, would probably ignore your conviction if they know you have received a pardon.

Nevertheless, keep in mind that a pardon does not seal, erase, or expunge your conviction. As in many other states, a pardon in Colorado "forgives but does not forget." Your conviction will still be part of your criminal record for all to see. However, the fact that you have been pardoned for a particular conviction will become part of your record as well, thus mitigating the negative effects of the conviction.

The effects of a pardon can vary from one state to the next.

if you receive a pardon in Colorado and then move to another state, that other state might take away your gun rights or require you to register as a sex offender again even if the pardon remove those restrictions on you while you were living in Colorado.

You should always check with the laws of the state you move to rather than just assume that the benefits of the pardon moves with you across state lines. Fortunately, states tend and honor each other's pardons.
The Colorado Executive Clemency Form
The demands of the 10 page Colorado Executive Clemency Form are formidable – they include such things as:
Federal and State tax return transcripts for last five years
A personal letter to the Governor stating specific reasons/circumstances for requesting clemency
Verification of employment for the past five years. You are encouraged to submit letters from employment supervisors on company letterhead stating date hired, date employment terminated, job performance and any other generally accepted forms of employment verification.
Pay stubs for last three months from employer
Five letters of reference, (Letters must be addressed to the Governor, be dated, include language indicating that the letter is for a pardon application, and include the writer's contact information. )
Reports from community parole officer/probation office addressing adjustment to community placement
Discharge documents
Color photocopy of driver's license
Current FBI record or arrest record
A completed fingerprint card (prints should be on blue applicant fingerprint card)
Any additional documents that would assist the Governor in making an informed decision
Summary – Colorado Pardons Are Very, Very Rarely Given
As a final and important note, as repeatedly noted, Colorado pardons are extremely difficult to obtain. Many lawyers offer services to help you do them but the process is designed to not require a lawyer. My firm does not represent individuals in pardon applications because the liklihood of success is so dismal and the time expended (and therefore legal fees) is great.
The reason I have written this article is help the reader with a little information…and to encourage the reader to never give up hope –  Good luck!
Restoration Of Gun Rights In Colorado And Pardons – Don't Hold Your Breath
If you found any of the information I have provided on this web page article helpful please click my Plus+1 or the Share buttons for Twitter and Facebook below so that others may also find it.
The reader is admonished that Colorado criminal law, like criminal law in every state and at the Federal level, changes constantly. The article appearing above was accurate at the time it was drafted but it cannot account for changes occurring after it was uploaded.
If, after reading this article, you have questions about your case and would like to consider retaining our law firm, we invite you to contact us at the Steinberg Colorado Criminal Defense Law Firm – 303-627-7777.
Never stop fighting – never stop believing in yourself and your right to due process of law. You will not be alone in court, H. Michael at your side every step of the way – advocating for justice and the best possible result in your case.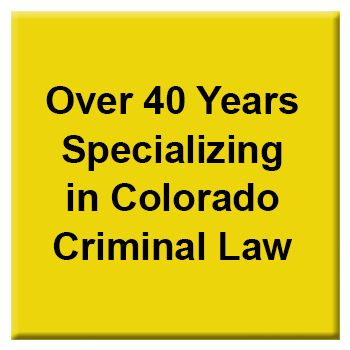 ABOUT THE AUTHOR: H. Michael Steinberg – Email The Author at [email protected] – A Denver Colorado Criminal Defense Lawyer – or call his office at 303-627-7777 during business hours – or call his cell if you cannot wait and need his immediate assistance – 720-220-2277. Attorney H. Michael Steinberg is passionate about criminal defense. His extensive knowledge and experience of Colorado Criminal Law gives him the edge you need to properly handle your case.
"A good criminal defense lawyer is someone who devotes themselves to their client's case from beginning to end, always realizing that this case is the most important thing in that client's life."
You should be careful to make a responsible choice in selecting a Colorado Criminal Defense Lawyer – and we encourage you to "vet" our firm. Over the last 40 plus years – by focusing ONLY on Colorado criminal law – H. Michael has had the necessary time to commit to the task of constantly updating himself on nearly every area of criminal law, to include Colorado criminal law and procedure and trial and courtroom practice. H. Michael works hard to get his clients the best possible results in and out of the courtroom. He has written, and continues to write, extensively on Colorado criminal law and he hopes this article helps you in some small way – Restoration Of Gun Rights In Colorado And Pardons – Don't Hold Your Breath.
Summary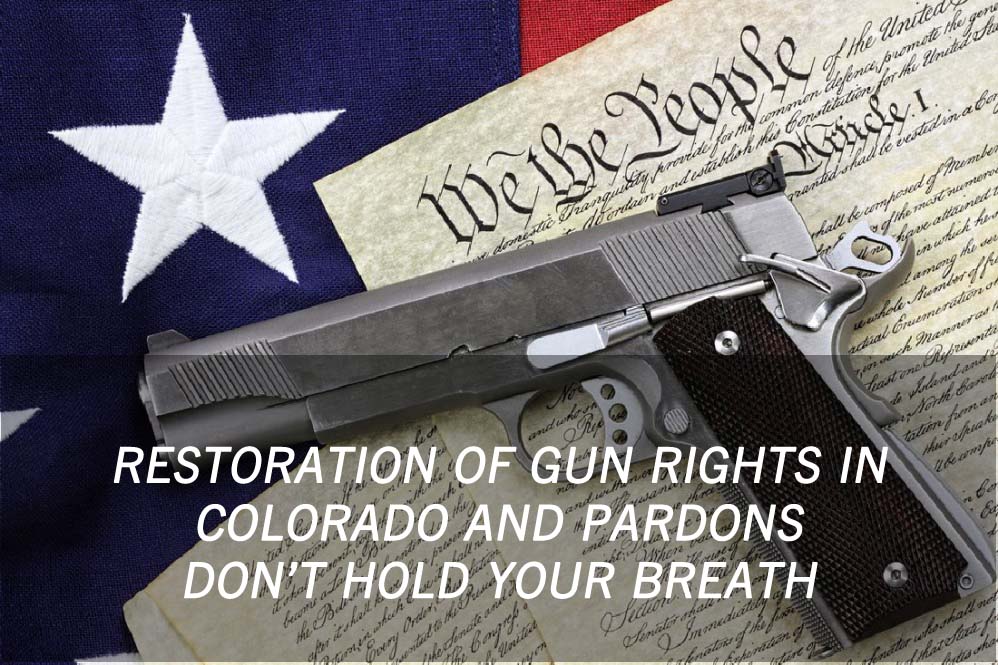 Article Name
Restoration Of Gun Rights In Colorado And Pardons - Don't Hold Your Breath
Description
In Colorado, with a conviction for certain crimes, there is a loss of the precious right to bear arms. With Colorado's strict sealing / expungement laws a "restoration of civil rights" to include the right to bear arms, leaves only the governor's pardon.
Author
Other Articles of Interest:
If you found the information provided on this webpage to be helpful, please click my Plus+1 button so that others may also find it.
___________________________
H. Michael Steinberg Esq.
Attorney and Counselor at Law
The Colorado Criminal Defense Law Firm of H. Michael Steinberg
A Denver, Colorado Lawyer Focused Exclusively On
Colorado Criminal Law For Over 40 Years.

The Edward Building
8400 East Prentice Ave, Penthouse 1500
Greenwood Village, Colorado, 80111

Main: 303.627.7777
Cell: 720.220.2277
24/7 Pager: 303.543.4433
FAX (Toll Free): 1.877.533.6276

Always investigate a lawyer's qualifications and experience before making a
decision to retain that lawyer or, for that matter, any professional ...in any field.