Colorado Pre-Charge "Investigation Stage" Representation
By H. Michael Steinberg – Colorado Criminal Defense Lawyer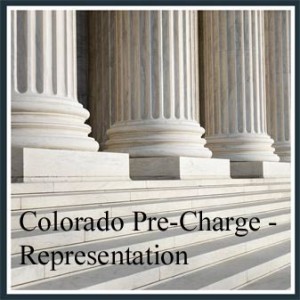 Colorado Pre-Charge "Investigation Stage" Representation – Whether in the Denver area, or anywhere in Colorado, if you are arrested, questioned and released without a citation, or if the police are attempting to contact you regarding criminal allegations from another person, then you are currently in the "pre-charge" or "investigation stage" of a criminal case. Regardless of what the allegations may involve, when situations like this arise it is imperative that the issue be addressed promptly by hiring an experienced, aggressive criminal defense lawyer to avoid being charged with a crime that may affect your permanent record. It is better to never be charged than to be charged and have the charges dismissed five minutes later.
After you have been charged, this information will always be logged inside of a computer, and you will always have to explain yourself when filling out job applications. In addition, on certain types of cases, once charged you will sit in custody and be designated as "non-bondable" until the case resolves. This means that if you have a million dollars in your pocket, you may still sit in custody.
Pre-Charge: "Investigation Stage" Colorado Representation
The Steinberg Colorado Criminal Defense Law Firm is exceptionally experienced in all areas of criminal law. H. Michael Steinberg is a highly accomplished former county prosecutor who is well versed in Colorado criminal law. He takes pride in knowing more about the law than the police officers and prosecutors. His firm handles trials, appeals, post-conviction relief petitions and forfeitures. We defend clients in all city, state and federal courts throughout Colorado.
The Steinberg Colorado Criminal Defense Law Firm also has extensive knowledge in all areas of forensic science and has numerous expert witnesses at its disposal. These legal tools can give you your best chance for a complete acquittal or a reduction of the charges.
The Pre-Charge Stage: What We Do for You
During the pre-charge stage, the first thing that we do after being retained is to attempt contact with the officers or detectives involved in your case. We do this to open up dialog to prevent any filing of charges, or to reduce the charges they may request when they submit your case to the prosecutor.
Second, we contact the prosecutor's office and discuss your case with the charging prosecutor. Naturally, we will attempt to either assure that your case is not charged, or have them charge it to the lowest possible offense. In addition, we ask the prosecutor to serve us with the summons directly.
Beware: the prosecutor does not have to honor our request and can either mail the summons to your address obtained on the date of the alleged violation, or issue a direct "bench warrant" for your arrest. We will check periodically with the court to see if the prosecutor filed charges without notifying us. If a bench warrant is discovered, we will call you immediately and file a motion to quash bench warrant with the court. We will then accompany you to court, quash the bench warrant, and enter a plea of not guilty.
We also attempt to obtain the police report involved in your case. Normally we are not allowed to have access to it while the investigation is still pending. However, mistakes are sometimes made in the records department, and they will accidentally furnish us with the police report. When and if we receive the report, we will review it with you in our office. We will attempt to interview any known civilian witnesses. Typically, officers or detectives do not grant us interviews while the investigation is pending.
If Your Case Involves False Allegations of Conduct
If your case involves specific false allegations of conduct, we may suggest that you have a poligrapher conduct a polygraph examination (a "lie detector test"). In addition, it may benefit you to have a private investigator conduct some research into your case. These approaches only occur after we have sat down with you and discussed these options in the privacy of our offices. Typically, polygraphs and private investigators are only necessary in very specific instances.
If There Is an Alleged Victim
If there is a specific alleged victim involved in your case, we may attempt to contact them to work out a "civil settlement." This is typically involved in cases where there is a loss of money or damage to property. If we are able to work out a resolution, we have the alleged victim sign a release document that states they do not wish to seek criminal prosecution, and that they have been fully satisfied for any and all claims. This document can go a long way to dissuading a detective or prosecutor from pursuing charges any further. Even though it cannot ban the prosecutor from bringing charges, it does have a dissuading effect on the alleged victim from pressing forward with the state in his or her case against you.
If  Your Case Is a Potential Felony
If your case is a potential felony, we may send a letter to the charging prosecutor (including all of the information we have obtained regarding your case) indicating why you should not be charged. If the prosecutor decides to proceed by a complaint and information, we indicate  to him/her that we will accept service of summons to prevent an unexpected and traumatic arrest. This allows the prosecutor the opportunity to serve us directly rather than having you either served a summons at work, or arrested on some later date. Although the prosecutor does not have to honor our request for acceptance of service, they almost always do, thereby preventing you any potential embarrassment.
The Pre-Charge Investigation Stage of Your Case Is Critical!
It bears repeating because it's imperative you understand this: The pre-charge investigation stage of your case is critical. If you have been accused of a crime, are being approached by detectives, or have been in an accident–you are in what is known as the pre-charge or investigation stage. This is the most important time to hire an experienced Colorado criminal defense lawyer to avoid being charged with a crime that may affect your permanent record. There is a huge difference between not being charged with anything, and being charged and then found not guilty a few minutes later. Even if you are found not guilty, having a charge on your record can negatively affect future background checks and job interviews, possibly resulting in not getting an interview or job.
Colorado Pre-Charge "Investigation Stage" Representation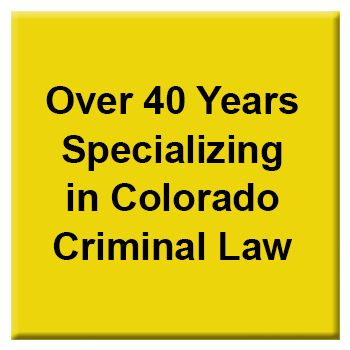 H. Michael Steinberg has over 40 years of Colorado criminal law experience. He is a seasoned Colorado criminal defense lawyer and a Colorado criminal law specialist. For a free initial consultation, call now about Colorado Pre-Charge "Investigation Stage" Representation.
More Information:
If you found the information provided on this webpage to be helpful, please click my Plus+1 button so that others may also find it.
___________________________
H. Michael Steinberg Esq.
Attorney and Counselor at Law
The Colorado Criminal Defense Law Firm of H. Michael Steinberg
A Denver, Colorado Lawyer Focused Exclusively On
Colorado Criminal Law For Over 40 Years.

The Edward Building
8400 East Prentice Ave, Penthouse 1500
Greenwood Village, Colorado, 80111

Main: 303.627.7777
Cell: 720.220.2277
24/7 Pager: 303.543.4433
FAX (Toll Free): 1.877.533.6276

Always investigate a lawyer's qualifications and experience before making a
decision to retain that lawyer or, for that matter, any professional ...in any field.