The High Price Of Retaining The Wrong Colorado Criminal Defense Lawyer
By H. Michael Steinberg Colorado Criminal Defense Lawyer
The High Price Of Retaining The Wrong Colorado Criminal Defense Lawyer – Wrongful convictions occur every day in our courtrooms in Colorado. Studies have shown that poor legal representation – inexperienced lawyers faced with tough tasks who fail at those tasks – is the reason this occurs.
While no one would argue that the Colorado criminal justice system is foolproof, many cases lost by the defense are the result of Judges who make improper rulings, prosecutors who "get in" unreliable evidence, and juries who make avoidable errors in their judgement at verdict.
When a serious mistake is made at trial – and a conviction enters against a Defendant  – a successful appeal of the case following that wrongful conviction enters is, not only very difficult, it is almost impossible. Most appeals are lost.
With that in mind – retaining an experienced criminal defense attorney should be the focus of the accused from the very start as the best way to prevent a wrongful conviction before it occurs.
We know many mistakes are made in the criminal justice system because of the later exoneration of the innocent as a result of DNA evidence – evidence which later conclusively establishes innocence.
When DNA reveals the truth – we are left to closely examine what happened – what went wrong – during their trial or trials.
Why DO Wrongful Convictions Occur?
Research in this area has shown that there are certain factors that are common in the cases that ended in wrongful convictions.
According to the research – SIX main causes account for most wrongful convictions:
Eyewitness Misidentification,
Unreliable/improper Forensics Such as Lab Testing, Fingerprints, Bite Mark Evidence, Etc,
False Confessions/ admissions,
Informants (Snitches) Who Lie,
Government Misconduct,
Bad Lawyering.
A Closer Look At Bad Lawyering
Good lawyering is the key factor in, not only uncovering flaws in a case making it's way through the Colorado criminal justice system, but in combating errors and issues at every stage of the criminal case on behalf of the client.
It bears repeating, a Colorado criminal conviction WILL alter your entire future.
When Things Go Wrong
Things go wrong in a case when inexperienced criminal defense lawyers fail in their duty to the client.
The failure of inexperienced Colorado criminal defense lawyers to:
properly analyze a case;
read and understand the State's investigation (known as the discovery of the prosecutor's file);
investigate and analyze the testimony of each and every witness in the case;
and to then use that analysis to thoroughly and properly prepare for trial;
fail to take simple steps to investigate and prepare their cases;
accept without questioning the validity of expert reports from the State's medical and forensic experts;
fail to object during trials and motions hearings to the admission of certain inadmissible and clearly damaging evidence – demand reconsideration of rulings from Trial Judges that unfairly favor the State's case and also to scrutinize jury instructions that are lopsided and work against their clients rights to due process;
fail to object when DA's introduce suspect and clearly inadmissible arguments or ask improper questions;
ALL lead to not only the conviction of the innocent when a case goes to trial, but to a bad plea bagain result when a plea agreement is reached – this is especially true where the State's case is strong.
A Colorado Criminal defense lawyer may lose the case – but you may lose your future.
The decision on which Colorado criminal law firm to retain – may be the single most important decision you make over your lifetime.
---
---
Selecting A Colorado Criminal Defense Attorney
Choosing a lawyer is like choosing a surgeon. It is most critical that you find the most skilled and the most reputable attorney in whom you can place your trust.
Here are some suggestions:
1. Choose a lawyer who specializes in criminal law – and furthermore, who concentrates his practice in the specific area of Colorado criminal defense law that you need for your case.

2. Focus on the qualities of a lawyer that are important to you.
Ask:
a. does this lawyer have excellent communication skills?

b. is he or she direct, clear – and yes, at times unambiguously blunt?

a does this lawyer have a good track record with his or her ex-clients?

c. does the lawyer have considerable experience with the crime or crimes YOU are charged with in this case?

d. is the lawyer scrupulously honest? about everything in your case? Or does the lawyer feed into your fears and exploit those fears to increase the fee?

e. does the lawyer make promises? (You must immediately reject a lawyer who guarantees a specific result in a criminal case – before receiving and carefully reviewing all the documents and evidence in that case).

f. do you feel comfortable with the lawyer and his or her defense strategy?
Finally, don't delay – don't take TOO LONG to find the right lawyer – try to retain a good lawyer one as soon as possible. The earlier you retain a great lawyer, the more time you have to prepare your case.
The best way to prevent a wrongful conviction in your Colorado criminal case is to hire a highly competent, highly experienced, completely ethical Colorado criminal defense attorney.
The High Price Of Retaining The Wrong Colorado Criminal Defense Lawyer
If you found any of the information I have provided on this web page article helpful please click my Plus+1 or the Share buttons for Twitter and Facebook below so that others may also find it.
The reader is admonished that Colorado criminal law, like criminal law in every state and at the Federal level, changes constantly. The article appearing above was accurate at the time it was drafted but it cannot account for changes occurring after it was uploaded.
If, after reading this article, you have questions about your case and would like to consider retaining our law firm, we invite you to contact us at the Steinberg Colorado Criminal Defense Law Firm – 303-627-7777.
Never stop fighting – never stop believing in yourself and your right to due process of law. You will not be alone in court, H. Michael at your side every step of the way – advocating for justice and the best possible result in your case.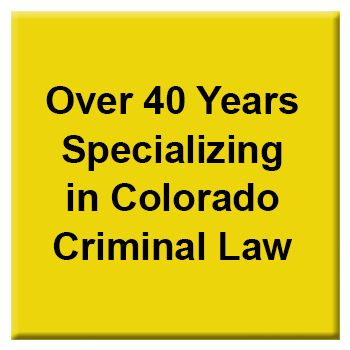 ABOUT THE AUTHOR: H. Michael Steinberg – Email The Author at [email protected] – A Denver Colorado Criminal Defense Lawyer – or call his office at 303-627-7777 during business hours – or call his cell if you cannot wait and need his immediate assistance – 720-220-2277. Attorney H. Michael Steinberg is passionate about criminal defense. His extensive knowledge and experience of Colorado Criminal Law gives him the edge you need to properly handle your case.
"A good criminal defense lawyer is someone who devotes themselves to their client's case from beginning to end, always realizing that this case is the most important thing in that client's life."
You should be careful to make a responsible choice in selecting a Colorado Criminal Defense Lawyer – and we encourage you to "vet" our firm. Over the last 40 plus years – by focusing ONLY on Colorado criminal law – H. Michael has had the necessary time to commit to the task of constantly updating himself on nearly every area of criminal law, to include Colorado criminal law and procedure and trial and courtroom practice. H. Michael works hard to get his clients the best possible results in and out of the courtroom. He has written, and continues to write, extensively on Colorado criminal law and he hopes this article helps you in some small way – The High Price Of Retaining The Wrong Colorado Criminal Defense Lawyer.
Summary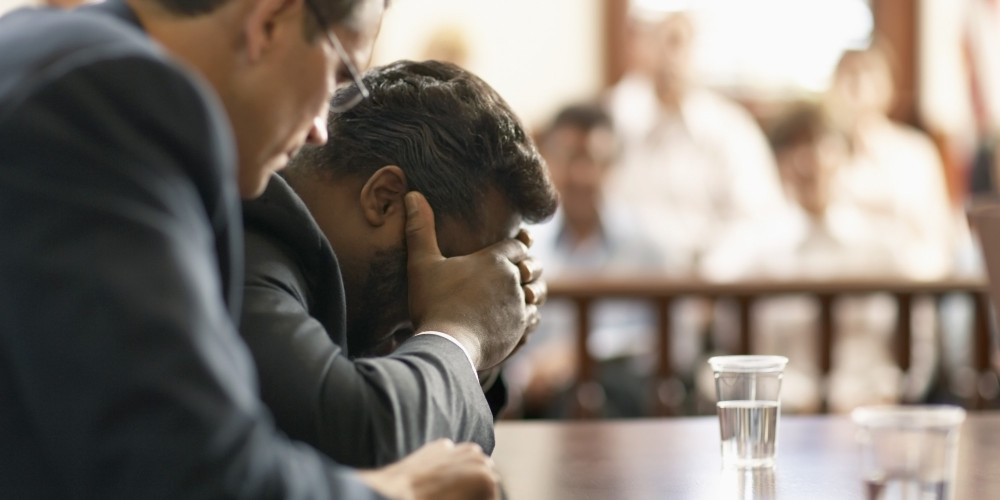 Article Name
The High Price Of Retaining The Wrong Colorado Criminal Defense Lawyer
Description
Wrongful convictions occur every day in our courtrooms in Colorado. Studies have shown that poor legal representation - inexperienced lawyers faced with tough tasks at trial - is the reason this occurs.
Author
Other Articles of Interest:
If you found the information provided on this webpage to be helpful, please click my Plus+1 button so that others may also find it.
___________________________
H. Michael Steinberg Esq.
Attorney and Counselor at Law
The Colorado Criminal Defense Law Firm of H. Michael Steinberg
A Denver, Colorado Lawyer Focused Exclusively On
Colorado Criminal Law For Over 40 Years.

The Edward Building
8400 East Prentice Ave, Penthouse 1500
Greenwood Village, Colorado, 80111

Main: 303.627.7777
Cell: 720.220.2277
24/7 Pager: 303.543.4433
FAX (Toll Free): 1.877.533.6276

Always investigate a lawyer's qualifications and experience before making a
decision to retain that lawyer or, for that matter, any professional ...in any field.