Colorado Statutory Rape And – Juvenile Sex – Can You Be Prosecuted In Colorado – 18-3-402(1)(e)
by H. Michael Steinberg Colorado Sex Crimes Criminal Defense Lawyer For The Defense Of Statutory Rape – Sexual Assault Charges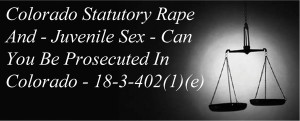 Colorado Statutory Rape And – Juvenile Sex – Can You Be Prosecuted In Colorado – 18-3-402(1)(e) – We live in s country where children grow up too fast in the eyes of their parents and grandparents. But practical reality yields to wishful thinking and while Colorado does not legally define the "age of sexual consent," it has enacted two crimes that can clearly be defined as "statutory rape."
At less than 15 – a child does not have the legal capacity to consent to having sex with anyone. Having even consensual sex with that child is a felony. BUT Colorado is a Romeo and Juliet law state – and there is a requirement – before this is a felony – that the partner be at least FOUR years older than the minor who must be 14 or younger.
This is a class 4 felony sexual assault – is eligible for enhanced sentencing as an " extraordinary risk crime" and has a sentencing range of two to eight years in prison or a $2,000 to $500,000 fine or both.
Therefore, it could be said that at 15 the child does have the age of consent EXCEPT if the child is 16 or 17. Then, if the consensual sexual partner is 10 or more years older than the child – the crime committed is a misdemeanor. This is an "extraordinary risk" misdemeanor and the sentence can range from six to 24 months in jail or a fine of $500 to $5,000 or both.
What If Both Parties The Same Age  – Say 14 – or – What If There Is Only Three Years Between The Kids – say 14 and 17?
It is not a crime when consensual sex takes place with both parties who are 15, 16 or 17… There must be an "age gap" of 4 or more years at less than 15 and 10 years at 15 to 18…
Here is a chart drafted by the Colorado State Government that makes all of this clear.


Why Is There A Crime Of Statutory Rape In Any Case? Why Punish These Kids?
The historical reasoning behind Colorado's statutory rape laws is to protect minors from sexual abuse from either adults or their peers and also from coercive and involuntary sexual activity.
The reality is that many teenagers voluntarily engage in sexual activity before the legal age of consent in Colorado. Very young and immature "kids" can have their lives ruined when they are swept up in criminal courts in the name of protecting them.
Studies show that the majority of those prosecuted for age of consent violations are in their teens or early twenties.
Some cases involve the four year age gap for felony statutory rape and BOTH children are underage. Consider the so called "adult" 18 year old having sex with a 14 year old who poses as a 16 year old at a party. Prosecuting this 18 year as an adult Colorado sex offender is outrageous and unfair.
The kinds of penalties that this young 18 year faces in Colorado include lifetime probation or lifetime prison if probation is unsuccessful. Court-ordered sex offense treatment and monitoring. registration as a sex offender and limits where they can live, work and travel.
Jail Bait – Sex, Lies And Videotape
"Jail Bait," is a crude term for a girl that looks much older than her actual age who lies about how old she is and has sex with an older man. The "she looked eighteen" is not a defense (see Mistake of Age below)
A realistic awareness of teen sexuality is needed that decriminalizes this conduct and recognizes that consensual sex between these two young people -while parents and other adults don't like it – it happens anyway. Laws must impose either impose much lighter penalties when both parties are close in age or decriminalize the conduct altogether.
Colorado recognizes the 'Romeo and Juliet' scenario – that juveniles of the same educational and social environment may engage in consensual sexual experimentation. These laws mitigate – even immunize these "kids" from the brutal criminal charges that can ruin their future lives.
No research exists proving that the prosecution of minors for consensual sexual acts reduces such things as teen pregnancy. What actually happens is that Colorado "mandated reporters" – snitch on these kids – reporting to authorities consensual sexual acts among their peers for possible prosecution. This betrayal means that these kids are much less likely to seek the help of school counselors, nurses or other adults in authority creating an emotional "barrier" to the kind of information and services teens experimenting with sex need to have available.
Colorado Does NOT Provide For An Affirmative Defense Of Mistake Of Age
In Colorado it does not matter that one party has lied about their age. This is called "strict liability" and provides an easy burden of proof in a case brought by the local District Attorney.
In fact – few states offer the Mistake Of Age defense.
Colorado Should Have The Mistake Of Age Defense In Colorado Statutory Rape Cases
In almost every other criminal case – mental state defenses such as Mistake Of Fact – are available to the person charged. Statutory rape is a strict liability crime – so that when as a typical example – a male engages in sex with a young female – he does so assuming the risk of her age and "consciously intends to proceed regardless of the age of the female and the consequences of his act."
If he REASONABLY BELIEVES that the woman is above the age of 15 or 17 – as applicable – and he has reasonably eliminated the risk by satisfying himself on reasonable evidence that the crime is not being committed and is then misled by that reasonable belief, there is no intent to commit the crime charged
The availability of the mistake of fact defense as a legitimate affirmative defense does not impact the policy goals of sexual assault charges. Deterrence of the reckless male who engages in this dangerous behavior is not interfered with when the male is intentionally misled by the female of otherwise reasonably believes the female to be under the age of 18. The jury should decide the reasonableness of that belief at trial.
Today – a defendant need not know the victim's age for the crime of statutory rape to be committed -therefore mistake as to the victim's age is no defense to this crime. BUT compare this to a suspect who is charged with aiding and abetting statutory rape… in this scenario – the mistake of fact is a defense IS available because aiding and abetting requires that the defendant knowingly aid the perpetrator in committing the offense.
In Colorado the mistake of fact defense should also be available to the person actually charged as the main crime. This is not a mistake of the law defense – ignorance of a law is never a defense – but mistake of fact is a defense which – simply – makes sense.
Colorado Statutory Rape And – Juvenile Sex – Can You Be Prosecuted In Colorado – 18-3-402(1)(e)
If you found any information I have provided on this web page article helpful please click my Plus+1 button below so that others may also find it.
ABOUT THE AUTHOR: H. Michael Steinberg – Email The Author – A Denver Colorado Sex Crimes Criminal Defense Lawyer – or call his office at 303-627-7777 during business hours – or call his cell if you cannot wait and need his immediate assistance – 720-220-2277.
If you are charged with A Colorado crime or you have questions about the topic of this article – Colorado Statutory Rape And – Juvenile Sex – Can You Be Prosecuted In Colorado – 18-3-402(1)(e), please call our office. The Law Offices of H. Michael Steinberg, in Denver, Colorado, provide criminal defense clients with effective, efficient, intelligent and strong legal advocacy. We can educate you and help you navigate the stressful and complex legal process related to your criminal defense issue.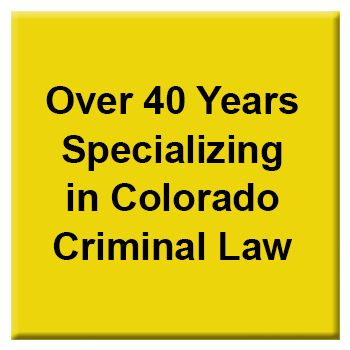 H. Michael Steinberg, is a Denver, Colorado criminal defense lawyer with over 40 years of day to day courtroom experience – specializing in Colorado Criminal Law along the Front Range. He will provide you with a free initial case consultation to evaluate your legal issues and to answer your questions with an honest assessment of your options. Remember, it costs NOTHING to discuss your case. Call now for an immediate free phone consultation.
---
 Helping Clients To Make Informed Decisions In the Defense of Colorado Criminal Cases.
Contact A Lawyer with Three Decades of Experience as a Denver Criminal Attorney at The Steinberg Colorado Criminal Defense Law Firm today.
Colorado Defense Lawyer H. Michael Steinberg provides solid criminal defense for clients throughout the Front Range of Colorado – including the City and County courts of Adams County, Arapahoe County, City and County of Boulder, City and County of Broomfield, City and County of Denver, Douglas County, El Paso County – Colorado Springs, Gilpin County, Jefferson County, Larimer County, and Weld County,…. and all the other cities and counties of Colorado along the I-25 Corridor… on cases involving .Colorado Statutory Rape And – Juvenile Sex – Can You Be Prosecuted In Colorado – 18-3-402(1)(e).
Other Articles of Interest:
If you found the information provided on this webpage to be helpful, please click my Plus+1 button so that others may also find it.
___________________________
H. Michael Steinberg Esq.
Attorney and Counselor at Law
The Colorado Criminal Defense Law Firm of H. Michael Steinberg
A Denver, Colorado Lawyer Focused Exclusively On
Colorado Criminal Law For Over 40 Years.

The Edward Building
8400 East Prentice Ave, Penthouse 1500
Greenwood Village, Colorado, 80111

Main: 303.627.7777
Cell: 720.220.2277
24/7 Pager: 303.543.4433
FAX (Toll Free): 1.877.533.6276

Always investigate a lawyer's qualifications and experience before making a
decision to retain that lawyer or, for that matter, any professional ...in any field.