Colorado Criminal Defense Lawyer Tactics – Using Character Letters In Plea Bargaining And At Sentencing Hearings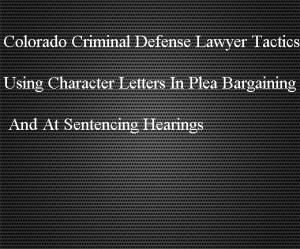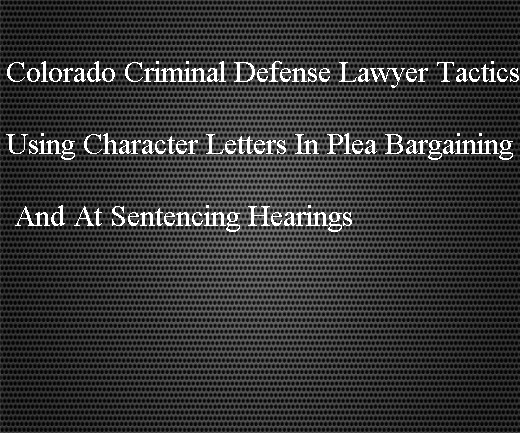 As a Colorado Criminal Defense Lawyer for many years – I am a firm believer in the role of the community – family, friends, business colleagues and the like – in framing a person's life in a much different manner than a one sided criminal investigation. We, as individuals, are not the sum total of what we have done on one occasion. We are much more than that. Character letters help prosecutors (and I did that job for 14 years as well ) to see the whole person. This is a web page intended to assist those who are looking for guidance in how to draft character letters.
Colorado Character Letters
Character letters are written on behalf of the Defendant and are useful in several contexts
Below is a list outlining who should prepare character letters, what format they should be written in and what basic information the character letter should contain (and what they should not contain).
The letters should be sent to our office and not directly to the judge. This allows us to preview them for any content that might prove detrimental to our client.
• Use letterhead and, if at all possible, the letter should by typed.
• The letters should be independently prepared and signed by the author. One person should not type all letters in advance and simply ask people to sign them.
• Address the letters to The Law Offices of H. Michael Steinberg Do not address the letter to defense counsel, the prosecutor, or the probation officer, or the judge.
• The writer should tell who they are, what they do, and approximately how long you have known the client. The writers should not be modest about themselves. If the author is the president of the local bank, the assistant librarian, the treasurer of the Optimist Club, or a stay-at-home mom, that information should be proudly included. This lets the DA or the Judge know about the writer and the writer's relationship with the client, and more importantly, the client's reputation and relationships in the community.
• The writer should explain how they know the defendant (school, job, church, social, civic, or family). This helps inform the judge about the client's interaction with, and his reputation in, the community.
• If the Defendant has been candid about his legal problems, the writers should let the court know. This shows the judge that the defendant has admitted his wrongdoing to others, which could be a positive detail, especially if acceptance of responsibility is in question.
• Each letter should include one or two positive personality traits of our client (honesty, family man, good parent, a hard worker, etc.) and use examples to illustrate these traits.
• The writers should add anything else they want to put in their letters in their own words. Anything added should be informative, but concise.
• The letters should not make disparaging remarks about the judge, the prosecutor, or any other officer of the court, or the victim. The letter should not minimize the seriousness of the offense or offer excuses. Focus on the Defendant's client's positive traits.
• Get letters from everyone – family, friends, preachers, teachers, employers, employees, co-workers, etc. The more letters submitted, the better.
• If the Defendant has children and they are old enough, they should write a letter. Significant others should definitely write one.
Colorado Sentencing Character Letters
Letters of personal reference are typically used in the sentencing process. They provide the court insight into the Defendant and the Defendant's reputation as a member of the community. A few good letters of personal reference can make a tremendously positive impact upon a case. These letters may also be useful in other aspects of the case as noted above .
To make a positive impression through letters of personal reference, consider obtaining a minimum of three.
Here is another outline for drafting a letter of personal reference:
1. The letter should be typed, dated, and signed in blue ink at the bottom if possible (but not essential).
2. The author's full name and address should be included.
3. The letter provided to your lawyer should be the original.
4. The letter should actually be written by the person who has signed it – resist any offer from those you have asked for a letter to put their signature to something that you have drafted yourself.
5. The author should state his or her age and occupation.
6. The author should state for how long and what capacity he or she has known you.
7. The author should state that he or she is aware of the offense (if they know – or you want them to know) – that you are facing or have admitted to committing and what his or her reaction is.
8. The author should, where appropriate, make comment on the effects he or she has observed this matter to have upon you. For instance, if the writer believes that you are remorseful, then he or she should say so and state why he or she believes it to be.
9. The author should, where appropriate, comment on your positive reputation and character. For instance, if the author believes that you are an otherwise honest and decent person and doesn't expect you to ever find yourself in trouble with the law again, he or she should say so.
Some Sample Character Letters:
Re: John Abraham Stonewall
I have known John Abraham Stonewall for 10 years and he is my best friend. I can confirm that he is a man of great integrity, is extremely dedicated to his family and work and is entirely peace-loving.
Furthermore, I have always seen him help his old neighbors with their daily chores, coaching the young baseball team of Little Angel's Orphanage on weekends and as an animal lover.
For your information, I am the Non-Medical Administrator at St. Jude's Hospital, and have been associated with them for over 6 years.
Yours faithfully
(Signature)
H. Michael Steinberg
---
Administrator,
St. Judes Hospital.
I have known John Stonewell for the last 10 years. John has been my next door neighbor since the past six years. He has also been my friend since High School and we share a very close friendship.
During this time I have found John to be a kind and trustworthy person. I have trusted him with all my secrets and shared a great deal of my life with him. John had a troubled early family life. His father expired when he was 10 and his mother has raised him facing a lot of hardships. John has held a few petty jobs since he left school and has now settled into a good construction job over the past couple of years.
John has told me he has been charged with 'damage to property under influence of alcohol'. He said this was because he threw the vase on the counter towards the wall, which accidentally hit the window. According to him he was under the influence of alcohol and got agitated as the waiter denied serving him more drinks.
John has told me he is extremely embarrassed about his behavior and would not have behaved the way he did, if he had been at a sober state. He has also said he was willing to pay for the damage caused and himself repair the broken window.
Yours sincerely,
(Signature)
H. Michael Steinberg
---
I am writing in reference to John Stonewell, who is appearing before your court due to a larceny charge.
John had requested me to write a character reference letter in reference to this case. But the truth is that I had already thought of doing so before he made the request. I feel strongly about John and I will try to make you feel the same for him.
John is man of good moral character. It may seem hard to believe in the given circumstances, but this is a true fact, nonetheless. I have known him since the day he walked over to Holy Cross Home for the Aged about 5 years ago. In these five years we have become good friends and I have seen him go through ups and downs. This has made me believed that he is a decent man at the core. He has dedicated many hours of his weekends helping the old. He organizes activities for the aged and spends time with them. He is bound to leave you with a smile, every time you meet him.
As you can see, it is totally out of his character to be charged with a crime such as larceny. He is a smart, young and dedicated volunteer at Holy Cross. John is also a student and working hard to complete his graduation with honors. The larceny charge will have a deleterious impact on his future in the academic as well as social work. I am sure there may have been some mistake as John is not the type of person to take anything that does not belong to him. I hope you will take into consideration the future of this young man, and make a fair decision.
If you wish to verify any of the above statements, please do not hesitate to call me on xxx-xxxx.
Thank you,
Yours sincerely,
(Signature)
H. Michael Steinberg
Colorado Criminal Defense Lawyer Tactics – Using Character Letters In Plea Bargaining And At Sentencing Hearings
If you found any information I have provided on this web page article helpful please click my Plus+1 button below so that others may also find it.
ABOUT THE AUTHOR: H. Michael Steinberg – Email The Author at [email protected] – A Denver Colorado Criminal Defense Lawyer – or call his office at 303-627-7777 during business hours – or call his cell if you cannot wait and need his immediate assistance – 720-220-2277.
If you are charged with A Colorado crime or you have questions about the topic of this article –  Colorado Criminal Defense Lawyer Tactics – Using Character Letters In Plea Bargaining And At Sentencing Hearings, please call our office. The Law Offices of H. Michael Steinberg, in Denver, Colorado, provide criminal defense clients with effective, efficient, intelligent and strong legal advocacy. We can educate you and help you navigate the stressful and complex legal process related to your criminal defense issue.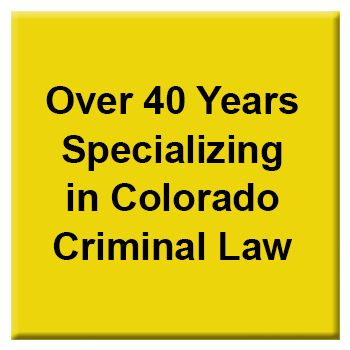 H. Michael Steinberg, is a Denver, Colorado criminal defense lawyer with over 40 years of day to day courtroom experience – specializing in Colorado Criminal Law along the Front Range. He will provide you with a free initial case consultation to evaluate your legal issues and to answer your questions with an honest assessment of your options. Remember, it costs NOTHING to discuss your case. Call now for an immediate free phone consultation.
Helping Clients To Make Informed Decisions In the Defense of Colorado Criminal Cases.
Contact A Lawyer with Three Decades of Experience as a Denver Criminal Attorney at The Steinberg Colorado Criminal Defense Law Firm today.
Colorado Defense Lawyer H. Michael Steinberg provides solid criminal defense for clients throughout the Front Range of Colorado – including the City and County courts of Adams County, Arapahoe County, City and County of Boulder, City and County of Broomfield, City and County of Denver, Douglas County, El Paso County – Colorado Springs, Gilpin County, Jefferson County, Larimer County, and Weld County,…. and all the other cities and counties of Colorado along the I-25 Corridor… on cases involving the subject of this article -Colorado Criminal Defense Lawyer Tactics – Using Character Letters In Plea Bargaining And At Sentencing Hearings.
Other Articles of Interest:
If you found the information provided on this webpage to be helpful, please click my Plus+1 button so that others may also find it.
___________________________
H. Michael Steinberg Esq.
Attorney and Counselor at Law
The Colorado Criminal Defense Law Firm of H. Michael Steinberg
A Denver, Colorado Lawyer Focused Exclusively On
Colorado Criminal Law For Over 40 Years.

The Edward Building
8400 East Prentice Ave, Penthouse 1500
Greenwood Village, Colorado, 80111

Main: 303.627.7777
Cell: 720.220.2277
24/7 Pager: 303.543.4433
FAX (Toll Free): 1.877.533.6276

Always investigate a lawyer's qualifications and experience before making a
decision to retain that lawyer or, for that matter, any professional ...in any field.